Analyze your results
DiscoverM is a new software tool capable of analyzing metabolomics data using a simple pipeline of preprocessing, visualization and statistical analysis methods.
DiscoverM
DiscoverM is a software module that offers statistical analysis and reporting for use with Chenomx NMR Suite profiling of batches of samples. A dedicated export of batches of NMR spectral results is available from the latest version of Chenomx NMR Suite. DiscoverM has options for normalizing the imported data for dilution effects of sample preparation and other parameters, graphical reporting of univariate data as well as calculating and reporting statistical methods such as PCA, OPLS-DA and others. Results can be saved in graphical format suitable for selection and insertion into reports, papers and posters.
DiscoverM is available at no charge from Chenomx.  Chenomx users who are licensed to use Chenomx NMR Suite version 8.4. will be able to export spectral results from project files to DiscoverM.
How it works
DiscoverM relies on two data files (in csv format). One is the concentration file which contains the concentration of the various metabolites profiled within Chenomx NMR Suite. The second is a meta data file which contains the various sample specific data that can be useful for extended statistical analysis. This includes normalization data (dilution in the sample preparation step for example) and Class data (gender, age, illness, control for example).
From the two data files, DiscoverM creates reports to help further analyse the experimental results.
For Further Details please have a look at our brochure describing the software or ask for a version of DiscoverM to evaluate.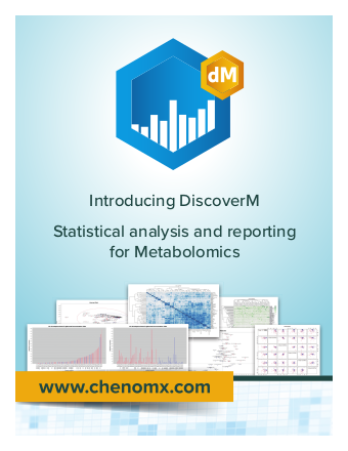 Click on the buttons below to download the latest DiscoverM Installer/Updater.

LICENSING AND USE: DiscoverM has been developed together with an academic collaboration from the University of Alberta and utilizes open source software (R) as part of the application. Chenomx does not charge a license fee for this software but it does require the latest version of Chenomx NMR Suite in order to use the data export features that support DiscoverM.