Welcome Panic NMR 2021 Attendees!
Chenomx NMR Suite
Chenomx NMR Suite combines sophisticated chemistry and advanced algorithms to identify and quantify metabolites in NMR spectra with an extensive library of spectral models of metabolites

Version 9 Now Available!
Version 9 of Chenomx NMR Suite adds enhanced drag and drop support, native support for the Apple M1 Chip, and Enhanced Preference Settings.
Processor
Improved Automatic Phasing.
Batch import of Sample pH Information from Excel workbooks.
Profiler
Improved Automatic Concentration Fitting for both batched and individual spectra.
Export of statistical Standard Deviation Errors for building Confidence Indices
Much improved MetaProfile Importing. (allows for selection of specific compounds)
Improved Compound Searching within Spectral Regions.
Free Evaluation Version
Click below to access the Evaluation Version of Chenomx NMR Suite. The Evaluation Version does not require a license to run, has limited capabilities compared to the activated versions (no save function, limit of 5 compounds per spectral analysis, few automation features) but the user experience is very similar to the activated versions. Once the evaluation version is installed, it can be activated for the full versions by a code from Chenomx so it isn't necessary to download and install again to get a full version.
Chenomx NMR Suite Libraries
The Chenomx Spectral Reference Libraries contain hundreds of fully searchable and pH-sensitive compound models. These models are automatically and seamlessly calibrated during software operation to match experimental sample conditions. Unique reference libraries are available for 400, 500, 600, 700 and 800 MHz NMR instruments and are included with the license of Chenomx software. The software can be used to confirm what compounds are in a particular library.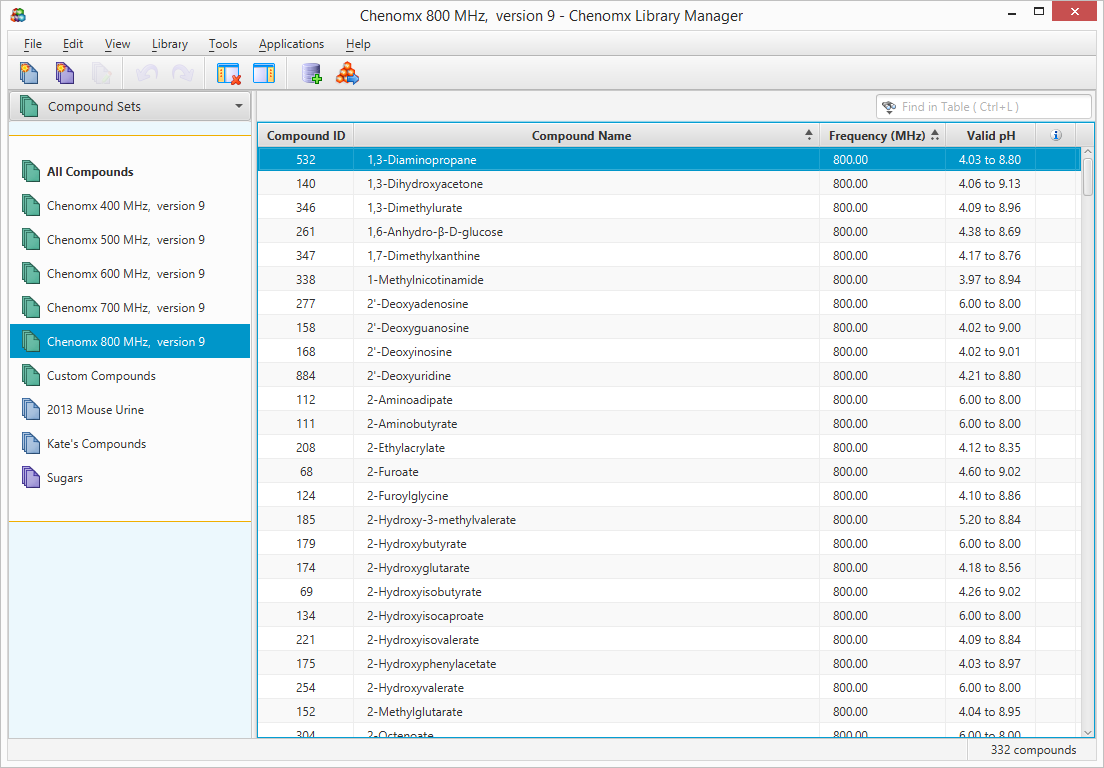 Processor
The 'Processor' module lets you import a wide variety of NMR spectra into Chenomx NMR Suite. It also provides the standard processing tools needed to clean up and calibrate those spectra, so that you can more easily and accurately analyze them using the Profiler module.
Profiler
The 'Profiler' module lets you identify and quantify the contents of your mixture spectrum by comparing it to a compound library with hundreds of reference signatures.
Library Manager
The 'Library Manager' module lets you manage sets of compounds that are available to all other modules in Chenomx NMR Suite. This includes any custom compounds that you've created with Compound Builder, as well as all of the standard Chenomx Reference Compounds.
Spin Simulator
The 'Spin Simulator' module allows you to simulate an entire compound signature based on a few theoretical details. Just set a magnet frequency, then start solving coupling relationships and measuring j-value constants while your simulation updates itself in real time!
Professional Version Only
Compound Builder
The 'Compound Builder' module allows you to create your own custom compound signatures, complete with full quantitative information. These signatures can then be used when analyzing samples in Profiler.
Batch Import / Batch Process
Batch Import/Batch Process applies processing steps to groups of samples. Batching significantly reduces processing time for large sample sizes.
Batch Fit / Batch Edit
Apply profiled compounds from a single spectra to an entire batch of spectra to reduce profiling time. Then, add stars, pins, and colors for labelling.
Spectral
Binning
Binning reduces the number of variables by dividing spectra into a series of ppm regions, or bins; subsequent analysis involves the integrated area of these bins
instead of the raw spectral data.
Chenomx Condensed Guide
Chenomx NMR Suite Condensed User Guide
The Condensed User Guide is a 3-page document compiling Sample Preparation, NMR Acquisition, as well as a step-by-step Processing, Profiling, and Reporting Procedure. Reviewing and following these steps prior to Acquiring your NMR Data will significantly improve the accuracy of your results.